When you discuss Los Angeles with a non-Californian (or even some in-staters), most tend to think the city's northern reaches end at about the Hollywood hills. To them, UCLA and the Getty museum mark the end of the line until you reach the quaint coastal communities around Santa Barbara.
Little do they know that the city's tendrils sneak all the way up the 101 until the border with Santa Barbara county, with dozens of thriving communities along the way – including the neighborhood of Chatsworth. Home to thousands of residents, the community's healthcare needs were being dramatically underserved by local hospitals, which drove Exer Urgent Care, a walk-in and emergency health provider chain, to set up shop in the Northridge neighborhood.
Exer prides itself on providing affordable care to local communities. Given the post-COVID surge in demand for preventative care, the clinic would need to be up and running as quickly as possible. This meant equipping and outfitting the building for both medical care and the necessary clerical work to keep the business operating smoothly.
Exer shopped around Los Angeles for an office furniture supplier that could provide the equipment they needed within a few weeks. This was no easy task, as the supply chain crunch caused by COVID-related port closures was causing turnaround times to extend into months, quarters, and even years for many suppliers. Luckily, they were able to find Creative Office Design, who had seen the problems coming on the horizon and made the necessary preparations.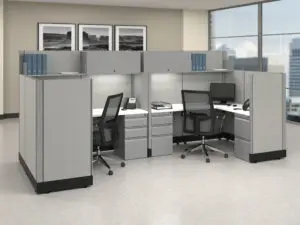 Creative had stocked itself with customizable and modular office furniture systems that would allow customers to select a design that matched their office aesthetic and have it shipped out to their location within a week of the finalized sale. After a brief consultation with Creative's design team, Exer decided on the Office Star system of cubicles, and the team began the process of packing the order and preparing for shipment.
Office Star's cubicle and desking solutions provided the clinic's administrative staff with optimal comfort and working space. The cubicle comes with power and data cable ports and plenty of storage drawers, allowing minimal muss and fuss with cable management and clutter. This lets workers use the desk space to its fullest potential and helps retain the impression of a clean and well-organized medical office to in-bound patients.
Once the order had been placed, Creative's logistics team had it ready to go within the week. Within seven days, the team arrived at the new clinic and was able to have the new furniture fully installed by the end of the business day.
Exer was able to open their well-furbished health office on time in part thanks to the quick turnaround time afforded by Creative's line of quickship cubicle solutions. If your company is facing a similarly tight deadline for an opening or re-opening and needs office furniture fast, get in touch with Creative Office Design!